MP SERIES SLOW SPEED RAM FED GRINDER
Low noise, low RPM grinder suitable for "drop & go" unattended operation.
The MP Series Slow Speed Ram Fed Grinder is designed for less power usage, minimal dust and reduced manpower requirements. Simply dump your scrap into the hopper and let the grinder do the work. The MP Series is the toughest, most durable machine you can buy for your wood processing needs. Each component was engineered with your needs in mind; from the extra heavy frame, bearings and shaft, to the electrical controls and more.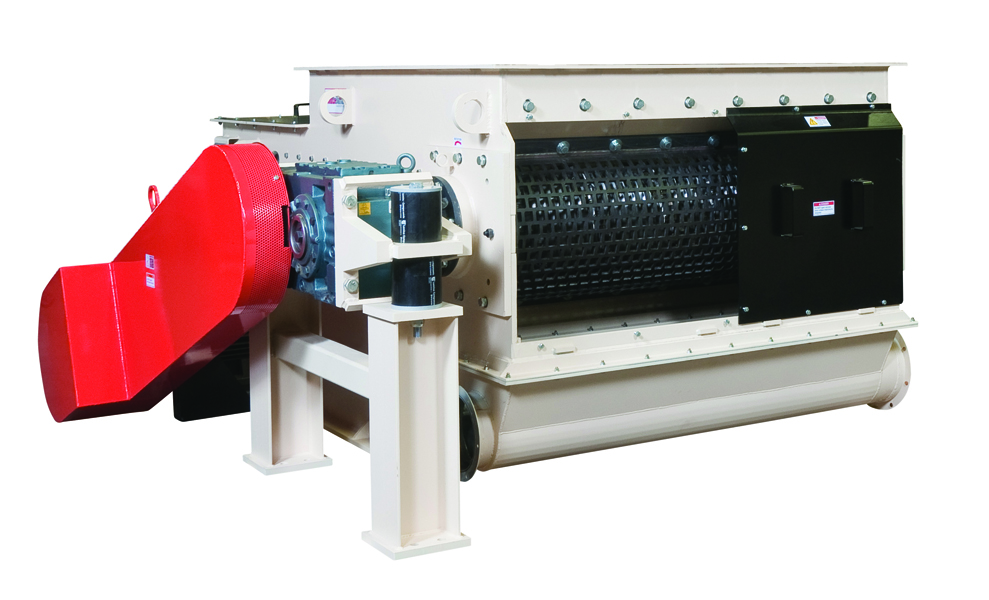 Click to enlarge
Typical Applications

Pallets
Boiler fuel
Landscape mulch
Demolition debris
Volume reduction
Custom crates and skids
Miscellaneous wood scrap

Key Features

Choice of 12", 15" and 20" rotor diameter each standard with four- way reversible tool-steel cutting teeth.
Heavy duty grates or perforated screens available in many sizes.
Serrated anvil made from abrasion resistant steel.
Heavy duty, American made, off-the-shelf, non-customized components (bearings, gearboxes, fluid coupling, and controls).
Programmable electronic system logic with digital read-out.
Adjustable hydraulic pressures, cycle timing and manual retraction.
All feed hoppers are custom built to suit application.
Several optional types of discharge conveying equipment available - either pneumatic or mechanical.
Optional magnets for ferrous metal extraction.
Easily connects to finish grinding hammer mill.

Increase throughput up to 400% with the addition of a finish grinding hammer mill. Click here to download our system diagram:




Sample Materials Processed