Schutte Hammermill offers one set of equipment for processing both RAP and RAS
Our heavy duty RC Series Hammer Mill with carbide hammers is highly effective for processing both asphalt road millings and asphalt shingles. Full sized shingle tear-offs can be processed at a rate of 60 TPH to ¼"minus or 250 TPH of RAP to ¾ minus. Two pass processing of shingles through both RC Series and 15 Series mills results in more than 60 TPH to #30 mesh minus.
All models available in both stationary and mobile construction and custom configured to suit the customer's material and production goals.
Processed Materials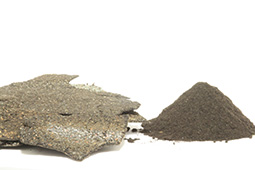 Asphalt Shingles
Reclaimed Asphalt Pavement (RAP)