When selecting equipment for processing pallets and/or pallet scrap, the first consideration must be the intended use of the end product. Some examples include: animal bedding, boiler fuel, pellets & briquettes, cellulosic ethanol, landscape mulch, playground cover, and composite lumber.
The following criteria must also be considered:
• Required throughput
• Required finished size
• Size and uniformity of in-feed pallets or scrap
• Method of feeding and collecting from the shredder or hammer mill
All Schutte Hammermill equipment is custom configured to suit the user's material and production goals.
Processed Materials
Pallets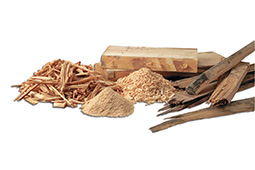 Processed Pallets