The pulverizing action of the E-Cycler hammer mill completely scours electronic media of data while simultaneously liberating the majority of components for easy separation and recycling.
Independent testing of computer hard drives has proven that no retrievable data can be found after processing through the E-Cycler. With the ability to process computer hard drives at a rate of one per second, the E-Cycler can also process cellular phones, printed circuit boards, semiconductors, CDs and more – all without any system reconfiguration.
The low speed, high torque KE Series Shredder is ruggedly constructed to process your toughest E-Scrap applications with ease. Dual shaft cutters reduce material by compression and shearing action. Ideal for larger, bulky E-Scrap and when comprehensive materials recovery is the goal.
Equipment for E-Scrap Processing
Processed Materials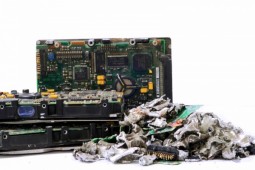 Hard Drives
Printed Circuit Boards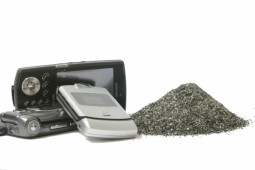 Smartphones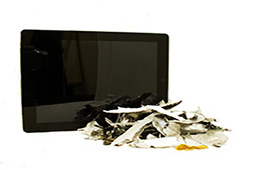 Tablets
Batteries