Schutte Hammermill offers an extensive line of hammer mills, wood grinders and hogs, as well as lumpbreakers adn crushers for reducing all kinds of materials. All of our equipment is custom configured to suit the user's material and production goals. Contact us today to find out more about our products and how we can help improve your process!
---
Featured Product
13 Series Pneumatic Discharge Hammer Mill
Reduces a variety of materials to desired size. The extremely versatile 13 Series hammer mill produces the ideal finish grind without sacrificing throughput.
Available in four standard sizes (13" to 36" wide) with integral fan units, and a larger 48" model that operates with a separate fan unit, the 13 Series mills have a wide range of applications. The standard mill operates at 3600 RPM and features a powerful material handling fan which is mounted onto the main mill shaft. With this unique combination only one motor is required to drive both the mill and the fan thereby saving horsepower and valuable floor space.
---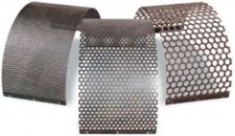 Looking for replacement parts for your size reduction equipment?  Schutte Hammermill equipment is very ruggedly constructed and with proper routine maintenance will remain in service for may years to come. We recommend periodic inspection of all wear parts. We maintain a large inventory of replacement wear parts for all current product offerings. Contact us today to place your order!